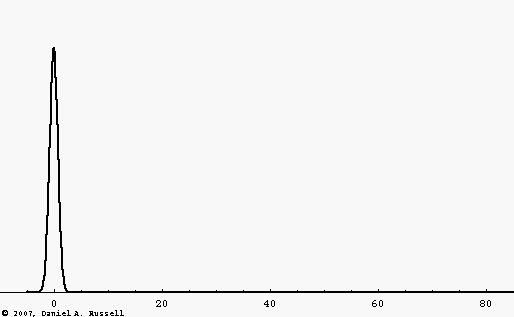 If the wave speed depends only on the physical properties of the medium (i.e., the elastic and inertia properties of a mechanical medium, or the relative permeability and permittivity for EM waves) then the wave speed is a constant, independent of frequency. Such a medium is called a non-dispersive medium and waves traveling through this medium will maintain a constant shape. This is illustrated by the black wave pulse in the animation at left. The pulse is a Gaussian function, containing multiple frequencies. Since the wave speed is constant, all frequencies travel at the same speed and the pulse maintains constant shape.

However, there are many examples of dispersive media where, for various reasons, the wave speed depends on the frequency of the wave. The blue wave pulse in the animation is the same Gaussian function as the black pulse, consisting of a large number of frequency components added together. However, now the wave speed depends on frequency, with higher frequencies traveling faster than lower frequencies. As a result, the wave pulse spreads out and changes shape as it travels.

The "middles" of both wave pulses travel at the same speed. This fact leads to the concept of a "group velocity" which is the speed with which the energy carried by the wave travels. The group velocity is the same for each wave pulse.