Experimental Modal Analysis of a Tennis Racket
The content of this page was originally posted on November 25, 2014.
The animated vibrational mode shapes on this page were collected by one of my students, Kritika Vayur in November 2014 as part of the work toward her M.Eng. in Acoustics degree.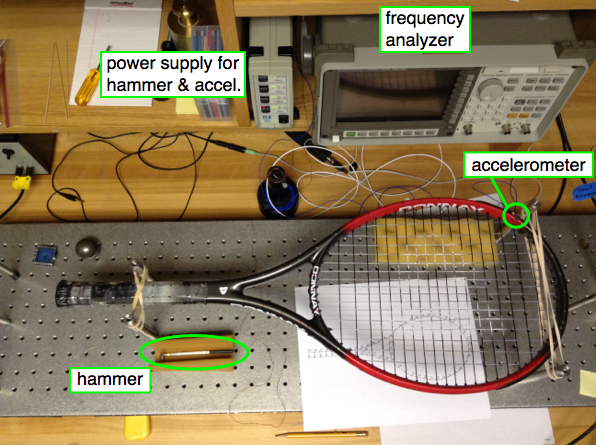 Experimental Modal Analysis (EMA) is an experimental method for extracting vibrational mode shapes, resonance frequencies, and damping rates for a structure. The experiment involves tapping the structure (in this case, a tennis racket) with a special hammer that has a force transducer in the tip to measure the impact force as a function of time. The resulting vibration response of the structure to this impact is measured with a small accelerometer attached to the structure. A two-channel frequency analyzer is used to capture the force and acceleration time signals and transform them to frequency spectra. The ratio of acceleration output to force input is called a Frequency Response Function, and is a complex quantity (in the frequency domain) whose real and imaginary parts provide the frequencies and the damping rates, and the amplitude and phase information necessary to determine the mode shapes. Using a roving impact technique, the accelerometer location is fixed, and the hammer impacts are applied at various locations on the structure - for the tennis racket data below, we used approximately a 1-inch grid spacing. The resulting collection of Frequency Response Function data is post-processed using STAR Modal software to curve fit the FRF data, resulting in the animated shapes below.
The racket in this experiment is a Donnay Forumla hollow graphite racket. The racket was freely supported by rubber bands, as this provides a boundary condition closest to the hand-held condition.[1,2]