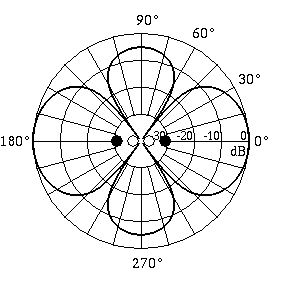 If two opposite phase dipoles lie along the same line they make up a Linear Quadrupole source. A tuning fork is a good example of a linear quadrupole source (each tine acts as a dipole as it vibrates back and forth, and the two tines oscillate in opposite directions). What makes the linear quadrupole interesting is that there is a very obvious transition from near field to far field. In the near field there are four maxima and four minima, with the maxima along the quadrupole axis about 5dB louder than the maxima perpendicular to the quadrupole axis. The near field directivity pattern is shown at right.

In the far field there are only two maxima (along the quadrupole axis) and two minima (perpendicular to the quadrupole axis) as shown in the figure below right.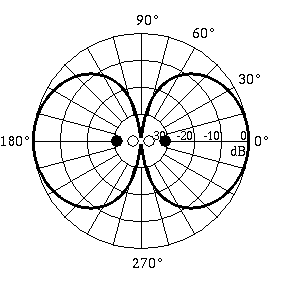 The animated GIF movie at left shows the pressure field radiated by a linear quadrupole. At the center of the picture you can see the quadrupole near field pattern. As the wave expands outwards it becomes almost a spherical wave (notice that the left and right going wavefronts are in phase as opposed to the dipole source) except that the amplitude is severely reduced in the vertical directions.